Do you want your team to be time effective, cost effective and highly productive?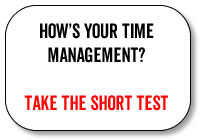 Glad you are visiting this page …
Let us help you make the improvements you are looking to make …
Would you like your people to be more effective and productive as well as less stressed?
We can tailor the training so that your teams are equipped with skills required to achieve deadlines, get important work completed first, prioritise in line with corporate goals …
Your time management and personal effectiveness training can include …
3 Tried and tested techniques for achieving success (models from world leaders)
The one thing to do so you never miss a deadline
How to design your own time management system that will never fail you
How to make prioritising work
Should you use a 'To DO ' list?… or is there something better
5 Tools for effectively managing meetings
How to reduce stress in the workplace
An effective tool to help you turn goals into reality
The power of positive
Saying 'no' without being offensive
Tips and ideas for managers
Making technology work for you
And your company will benefit from …
Highly motivated employees
High performing teams
Increased productivity
Achievement of department targets
Reduced waste
Cost savings
Reduced stress levels in the workplace
Credibility for your company, your managers and your team members
People having the time to be doing the things that matter
You can have this training delivered in your company …
Choose your duration
Decide how many delegates you want to attend
Choose your budget range
Prioritise your key topics
We will do the rest and design and deliver you an amazing, effective and enjoyable event that will be well worth investment in time and money and …
We will be happy to be on hand to deal with any post training queries and offer you and your people support as well as …
Regular updates on new ideas and techniques that will keep your managers and team members ahead of the game.
Contact us now to discuss your ideas and we will turn them into reality.
01642 760028 or 07966 486546
Email info@sydstrike.co.uk
Or complete the short enquiry form